I love doing embroidery, from 12 stitches per cm to 32 stitches per cm.
The best thing to do is to make my own embroidery patterns.
In all my dolls houses you will find a lot of embroidery.
When I started to embroider in miniature I had to order the silk gauze from Engeland. Here in The Netherlands no one had heard of it. No one could advise me which embroidery silk I had to use. All the coloured yarns I had and all the coloured yarns I could buy were much to thick. But I had my Egyption cotton # 120-170 which I used for lacemaking. But that was only in white or cream. So I started to dye these yarns. After I had dyed them in app. 120 colours is thought that would be enough and I started my embroidery.
This cabinet, with embroidered sides and doors is
one of my greatest achievement.
The original cabinet is owned by the Historical
Museum in Amsterdam and was made at the end of the 17th century.
I was permitted to measure this cabinet and take lots of pictures. The embroidery had partly vanished but there was enough left to reconstruct the pattern. After doing so I made my own miniature pattern
I used silk gauze with 72 HPI for this embroidery.
It took me more than 700 hours and over a million tiny stitches to finish this work.
I designed the embroidery pattern from a
picture of a sample from 1625.
It is embroidered with silk.
The fringe is bobbin lace.


Slippers, bags, suspenders and paintings
The next pieces of embroidery are all made after old patterns from 1860-1890. On silk gauze of 32 stitches per cm. and with my own dyed cotton yarn.
Ladies slippers, fully embroidered and lined with silk. Underneath a fine leather sole.
Size 2.3 cm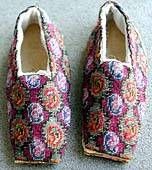 3 pairs of Gents slippers. Size 2.8 cm.
The last pair, with foxes on it, are boys slippers of 2.6 cm.
2 Pairs of childrens' slippers of 2.1 cm and 2 pairs of childrens' slippers with flowers of 1.8 cm.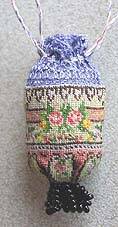 These bags too are embroidered on silk gauze of 32 stitches per cm. after old patterns.
The last bag has a hand made silver clasp that really opens
and very tiny beads.
To embroider suspenders for your husband or loved one was often done by ladies of the high society.
On the ends they are finished with very thin, genuine leather.
The size of the first painting is 5,5 x 4,2 cm.
The second one: 4,1 x 3,2 cm.
And the third: 3,5 x 2,5 cm.
A stunning sewing box.
I embroidered the cute dogs head; Johan Ulfman made the wonderful sewing box.
On the sides he has done some wonderful marquetery.
Such a beautiful piece!
Hardanger embroidery is very beautiful and I enjoy doing it.
I especially like using this beautiful old linen; the fabric is finely woven with 60 threads per inch.
The cutting of the holes is very scary!
Size: 18 x 12.5 cm.
This blue tablecloth is made of cotton.
Notice the very fine embroidered seam.
The cotton fabric had 23 treads per cm.
Years ago I gave a workshop in which I learned students how to do hardanger embroidery. During the workshop they made at least one of the cushions.
The fabric is linen of 16 holes per cm.
Size: 4 x 4 cm.
I designed this "village" for the Dutch dolls house magazine # 199. The houses, the church and the gazebo on the square are embroidered in the hardanger technique, stiffend and sewn together. Every winter we put this from the attic into our living room and enjoy it very much.
Wall tapestry and carpets
Once we were in Glasgow and visited the museum with the Burrell collection. There I saw 2 woven tapestries I liked very much. They were from the beginning of 1600 from Germany. I was allowed to take pictures.
Once at home I made an embroidery pattern of it. It was difficult, took me long time but I liked doing it.
Then, of course, I could start embroidering.
The first tapestry depicts The Last Supper and the second one The Agony in the Garden.
Size: 10,8 x 10,8
This pattern was made after an old pattern from 1850-1860.
The old pattern was German and designed for Berliner Woodwork.
The multi coloured, second tapestry was designed by Sophie Taeuber-Arp in 1917
Designing patterns for carpets is also fun to do. Especially historical carpets. The pictures of the originals I find in books and auction catalogues.


Deventer carpet, seen in castle Roosendaal.
carpet from the 18th century.
Modern carpet.
Carpet from the 18th century. Carpet from çanakkale - 19th century. Centre of a carpet.
Patterns made for the Dutch dolls house magazine Poppenhuizen en Miniaturen and more.
Teacosy in the shape of a Dutch farm.
Picture 1: The front with plants and birds.
Picture 2: Side with a cat in the window.
Picture 3: Back with milk cans, wooden clogs, flowers and a birdcage above the door.
Wallhanging with orange tree, size : 3,3 x 4,8 cm. A school sampler, size : 5,2 x 3,8 cm. Lovely round tablecloth with bobbinlace fringe: 7 cm. And 2 Chinese pillows. The icons mean: wealth, a long life and lots of happines.
I embroidered this Louis XVI chair after a picture I found in an auction catalogue.
An embroidered nativity. This is the largest of the 2 I made. The figures are 2.6 cm.
For a very long time I had this picture hanging on the wall in front of me. I really loved it and wanted to do it in miniature, but I could not make the furniture.
But Wilma van Elderen could and this was her favourite style. Unfortunately Wilma did not know how to embroider.
So we both started to work. Wilma made the furniture
twice and I did the embroidery.
Then we swapped!
These two cosy pillows are from my
book: Christmas Needlework in
Miniature.
Information about this book here in my webshop
This bag is similar to ones from
the 70's.
Sometimes they were embroidered like this one;
sometimes they were made
from a piece of
carpet or tablecloth.
This is not a trade site, but you can always sent me an e-mail if you are seriously interested in a miniature.
My webshop is: https://miniaturenannelies.nl
Nothing can be taken from this site without permission of Annelies de Kort.