THE DACHSHUNDS
AND THEIR COATS
How it started:
In February 2005 I made a Pied de poule ( houndstooth) suit for the Dutch dolls house magazine with a matching coat for a dachshund.
This couple was a success, I also really enjoyed designing
and yet ..............................
............ it took until the end of 2005 before I started a whole series of coats.
And once I got the hang of it, there was no stopping it.
The models flew through my mind and soon I had a whole list.
And these are all of them.
First row: The clown fish coat, the Indian coat, the angel coat, and a fluffy coat
The Holland coat, the gay coat, the hotdog coat and the Santa coat.
The sailor coat, the coat from Peru, the sheep coat, the sock coat
The fantasy dress, the American flag coat, the coat from Breton, the Burberry coat.
The camouflage coat, the confettie coat, the Fair Isle coat and the yellow dress.
The crocheted flower coat, the dyed flower coat, the coat with hearts and the blue dress.
The Christmas coat, the cow coat, the patch coat, the lady bug coat.
The Mac Donald coat, the Marilyn Monroe coat of Andy Warhol and the Miro coat.
The Mondriaan coat, the Dutch footballteam coat, the panther coat, the coat with pearls.
The pirate coat, the rain coat, the bow coat and the New York taxi coat.
The coat with dachshunds, the dachshund coat, the Van Gogh coat and the sand stitch coat.
The disco coat, the Keith Haring coat, the blue-silver party coat, the coat from the seventies.
In January 2008 there was a happy event with the dachshunds: 3 puppies were born.
However small they were, coats and pants were knitted for them.
Now the boy dachshunds and the girl dachshunds with the puppies are hanging in a separate frame in the toilet.
Because we cannot have more family expansion.
Have I made a miniature book of all the coats? Yes sure, look for yourself.
Because there was an increasing demand for coats for other dogs, I discovered that they are actually very nice.
And of course there are other techniques than knitting and so ............
A small impression.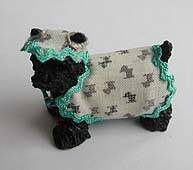 And who else hangs in the toilet? That is Piet. He sits comfortably there and if he wants privacy he just closes the doors.
What he has all around him?
The toilet cleaning dachshund, the cute dachshund rug, a smurf toilet roll holder and a smurf toilet brush
And if he gets bored, I give him a good book. Like teckelmania.
THE SMURFS AND THEIR COATS
Years ago you got little plastic smurfs at AH. And because they were completely naked, I started knitting for them.
These are Azrael, Spectacle Smurf, Football and Trumpet Smurf and the Grouch Smurf.