Although you actually have to be an IGMA member to participate in the Guild show, in the summer
of 2005 I was asked to staff a table.
This is a great honor that I have grasped with both hands.
You should of course also bring special miniatures with you to a special fair.
The first thing I thought was that I wanted to make a MISS HOLLAND.
A modern Amsterdam young woman who could link her clothing with the historic Amsterdam of the 17th century.
This is what she has become.
Her skirt and top is knitted with cotton sewing thread. I chose cotton because it links to the cotton fabrics that were so popular in the 17th century. The beautiful printed cotton entered our country with the merchant ships.
The top is inspired by the beautiful woven 17th century (table) cloths with a very full floral pattern.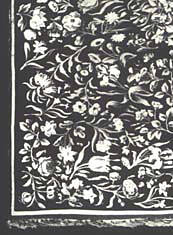 This is the table cloth from the 17th century that was the inspiration for the top.
The making of the top, front and back.
The skirt is pinned to dry and the paper pattern of the skirt.
The skirt consists of 8 separate parts that are sewn together later. On each part is a canal house and on one part is the Munttoren.
Every house is different. There is a renovated warehouse; there are 2 houses with a staircase, a ground floor and a basement. Of course there is also a house in the "red light district".
In front of 2 houses are "Amsterdammertjes".
The sky has been given the same colour that Ruysdael, the painter famous for his skies, used for his paintings.
The doll and wig are made by Angelique Hoekstra.
Unfortunately I don't have better pictures of this doll and I can't take them anymore because this doll was bought in New York by the miniature museum in Kentucky.


This is not a trade site, but you can always sent me an e-mail if youare seriously interested in a miniature.
My webshop is: https://miniaturenannelies.nl
Nothing can be taken from this site without permission of Annelies de Kort.